In addition to that the history of the Zippo Manufacturing Company is inseparably connected to Ernie Pyle.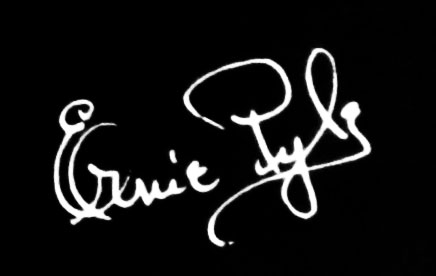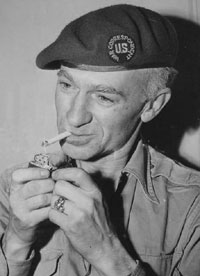 The famous War correspondant wrote columns for the Scipps Howard Newspaper & had the habit of giving a Zippo lighter to every soldier he interviewed, wrote a letter to George G. Blaisdell reporting the G.I.'s being very confident having a reliable lighter. Mr. Blaisdell started sending him about 50 to 100 Zippo lighters a month for free in order to promote his product by Mr. Pyle distributing them by lottery among the G.I.'s.

Soon after the entire output was drafted by the government for use of the armed forces abroad - sent to overseas post exchange & ship's stores - civilian sales stopped, which was stated in nationwide newspaper ads from 1942 through late 1945. (please see some examples at the end of this page for further information)
Regarding the company's output the production numbers exploded. The Army Quatermaster Corps ordered Zippo lighters in 500.000 & 1.000.000 unit lots. It took 10 years to reach the milestone of 1.000.000 produced Zippo lighters in 1942. Within the next 5 years this number had multiplied tenfold.
Probably the most valueable pieces among these millions of black crackle Zippo lighters produced from 1942 to 1945 are those made "in memory of Ernie Pyle". When George G. Blaisdell learned about his friends' dead on April 18, 1945 in the South Pacific he immediately send about 600 specially engraved Zippo lighters to the Captain of the U.S.S. Cabot, the ship Ernie Pyle was on board the last months as give-aways to the crew.